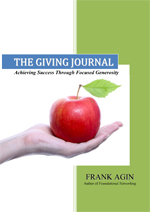 Download The Giving Journal
A book about generosity should NOT be sold. As such, I am giving away free copies of The Giving Journal. To get one, please enter your e-mail below and I will send you a link to download a FREE pdf of this book.
There are no strings attached. There will be no up-selling. You will simply receive a free copy of The Giving Journal to enjoy.
If you would like to purchase a physical copy of this book, however, you can find it on Amazon.com.
Thanks,
Frank Agin
frankagin@amspirit.com